mar 12, 1947 - Cold War Begins
Description:
Harry Truman address congress, stating that "It must be the policy of the United States, to support free poeple who are resisting attempted subjugation...by outside pressures."
Thus he instated the "Truman Doctrine" which began the push for anti-communist ideology across the globe, America, and most importantly our Schools.
This also begin to creating paranoia and fear of nuclear attacks prompting various safety drills in our schools.
Along with education initiatives relating to nuclear energy and warfare. Leading to the important impact of caution and concern that we know exercise around atomic and radioative materials.
Added to timeline: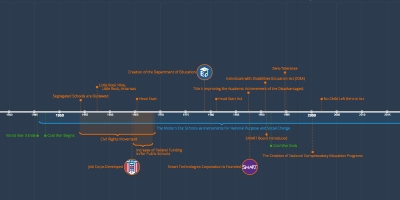 The Moderan Era
A time line recounting major historical events domestically ...
Date: