nov 2, 2019 - Battle the leaders
Description:
Everyone teams up to fight the big bad leader guy. He's a huge, ancient elemental, one who's walked the earth for many years. He dwells in a volcano, and fire is his element. It's the only fire that can damage a Shi'nua, other than phoenix fire. Mariea has to play a big part in defeating him, to protect the Shi'nua from his power.
May kill some characters here. This is all up in the air. may not have enough to do three books. May just want to add this on to the end of the second book and call it good. Like a part one, part two deal.
Added to timeline: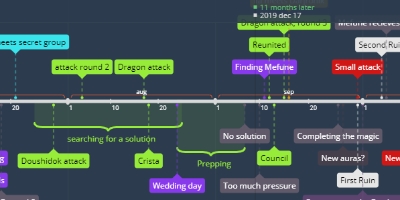 Auric Chronicles timeline
The basic timeline of the series
Date: