Mikhail Gorbachev (11 März 1985 Jahr – 19 Aug 1991 Jahr)
Beschreibung:
Served as General Secretary from 11 March 1985, and resigned on 24 August 1991,Chairman of the Presidium of the Supreme Soviet from 1 October 1988 until the office was renamed to the Chairman of the Supreme Soviet on 25 May 1989 to 15 March 1990 and President of the Soviet Union from 15 March 1990 to 25 December 1991. The day following Gorbachev's resignation as President, the Soviet Union was formally dissolved.
---------------------------------------------------------------------
Gorbachev's primary goal as general secretary was to revive the Soviet economy after the stagnant Brezhnev years. In 1985, he announced that the economy was stalled and that reorganization was needed. Gorbachev proposed a "vague programme of reform", which was adopted at the April Plenum of the Central Committee.He called for fast-paced technological modernization and increased industrial and agricultural productivity, and tried to reform the Soviet bureaucracy to be more efficient and prosperous.
Gorbachev soon came to believe that fixing the Soviet economy would be nearly impossible without reforming the political and social structure of the Communist nation. He also initiated the concept of gospriyomka (state acceptance of production) during his time as leader, which represented quality control.
Zugefügt zum Band der Zeit: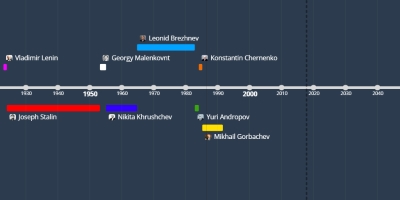 SOVIETIC UNION
Datum:
Abbildungen: