Vladimir Lenin (30 Dez 1922 Jahr – 21 Jan 1924 Jahr)
Beschreibung:
Chairman of the Council of People's Commissars (Sovnarkom) and informal leader of the Bolsheviks since their inception. Was leader of the Russian Soviet Federative Socialist Republic (RSFSR) from 1917 and leader of the Union of Soviet Socialist Republics (USSR) from 1922 until his death.
----------------------------------------------------------------------
In November 1917, Lenin issued the Decree on Workers' Control, which called on the workers of each enterprise to establish an elected committee to monitor their enterprise's management.[202] That month they also issued an order requisitioning the country's gold,[203] and nationalised the banks, which Lenin saw as a major step toward socialism.[204] In December, Sovnarkom established a Supreme Council of the National Economy (VSNKh), which had authority over industry, banking, agriculture, and trade.
Zugefügt zum Band der Zeit: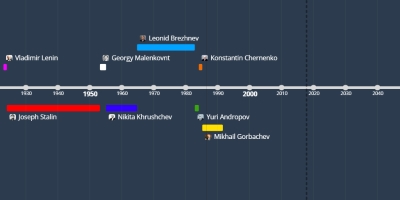 SOVIETIC UNION
Datum:
Abbildungen: