Teetor introduces cruise control makingn engineering take over cars (12 Jul 1948 Jahr – 20 Okt 1960 Jahr)
Beschreibung:
An engineer became so fed up with the rocking motion he experienced while riding in a car with his attorney behind the wheel that he developed one of the first cruise control system to smooth out the ride, using a mechanical throttle that could set the vehicle's speed. The invention was commercialized in 1958.
Zugefügt zum Band der Zeit: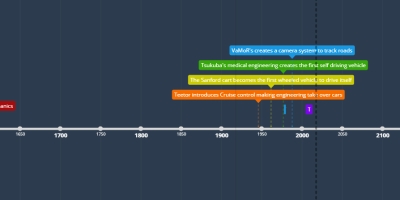 Self-driving cars' evolution timeline
This timeline goes through the major events that led to prod...
Datum:
YouTube: