6 Jul 1992 Jahr - Mariea born
Beschreibung:
Crista leaves the prison and discovers herself in an unforgiving world that doesn't speak her language. She remains homeless and destitute for about six months, managing only to survive because of her wits. Eventually, she stumbles across a man who actually seems to understand her a bit. (Thomas! :D) He's been living an interesting life, running from a myth his parents ingrained in him to fear. Just as he's beginning to doubt the truth of it, he meets Crista. Deciding to help her, he teaches her English and introduces her to the real world. She tells him basically everything about what she is but leaves out the nitty gritty of her past. He knows she once had a husband and son, but that both 'died' from a certain point of view XD They eventually fall in love, and have a little girl named Mariea.
Mefune 18, looks 12.
Crista 54, looks 23.
Zugefügt zum Band der Zeit: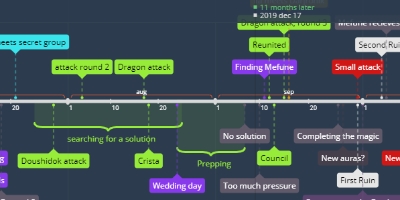 Auric Chronicles timeline
The basic timeline of the series
Datum: