16 Mai 1969 Jahr - Empty Sky Launch Party At the Revolution Club London
Beschreibung:
The DJM records launch had taken place at the Revolution Club, probably around the release of 'It's Me That You Need' on May 16th, or 'Empty Sky' two weeks later.
"The revolution Launch, I'm sure went well, although I can't really remember. Its funny the things you do remember. I can actually remember putting on the album of Neil Young, while people were coming into the club. This is very much how we saw Elton, as Britain's Neil young, James Taylor or Crosby Stills and Nash. "Empty sky", was described as a folk rock album. We didn't know at that time, that events were going to show, that Elton had other ideas. When playing live with Hookfoot, or sometimes just alone on the piano, Elton was quite reserved, I suppose shy even. Hookfoot were such great musicians, but it was like a musicians band and the audiences although liking it, weren't exactly ecstatic. There was no real show at this time, just very much reproducing what was on the record, as much as possible."
Zugefügt zum Band der Zeit: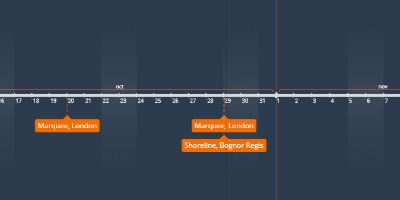 Early Elton Milestones
Datum: