5 März 1946 Jahr - Iron Curtain Speech
Beschreibung:
President Truman gave a speech to our Nation, expressing his concerns about the Soviet Union and what they are doing. He talked about his fear of the fifth column, the control the Soviets were taking and what it meant for the rest of the world.
- "... all these famous cities and populations around them lie in what I must call the Soviet sphere, and all are subject, in one form or another, not only to SOviet influence but to a very high and in some cases increasing measure of control from Moscow."
- "In a great number of countries, far from Russia frontiers and throughout the world, communist fifth columns are established and work in complete unity and absolute obedience to the directions they receive from the communist center."
He introduced the term "Iron Curtain" to describe the division between Western powers and the area controlled by the Soviet Union. The response to the speech was immediate and fairly positive. This speech marks the onset of the Cold War.
Zugefügt zum Band der Zeit: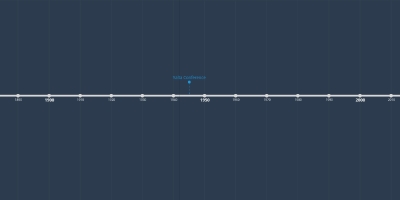 Cold War Events
Datum:
Abbildungen:
Geo: