25 Jan 1839 Jahr - Henry FoxTalbot
Beschreibung:
-British inventor, William H. Fox Talbot made paper sensitive to light by bathing it in a solution of salt and silver nitrate.
-The silver turned dark when exposed to light and in turn created a negative, which could be used to print positives on other sheets of light sensitive paper.
-At a meeting of the Royal Institution on 25 January 1839, Talbot exhibited several paper photographs he had made in 1835.
-Talbot throughout his life continued to develop his inventions of photographic developing. This includes calotype and talbotype 'developing out' processes which e announced in 1941.
Zugefügt zum Band der Zeit: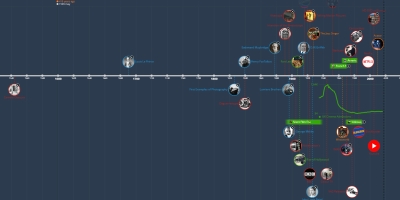 History of Film
Datum:
Abbildungen:
YouTube: