1 Jan 1544 Jahr - Camera Obscura
Beschreibung:
-A camera obscura device consists of a box, tent or room with a small hole in one side. Light from an external scene passes through the hole and strikes a surface inside, where the scene is reproduced, inverted and reversed, but with color and perspective preserved. The image can be projected onto paper, and can then be traced to produce a highly accurate representation.
-As the pinhole is made smaller, the image gets sharper, but the projected image becomes dimmer. With too small a pinhole, however, the sharpness worsens, due to diffraction.
-The earliest known written record of the camera obscura is to be found in Chinese writings called Mozi and dated to the 4th century BCE.
-The oldest known published drawing of a camera obscura is found in Dutch physician, mathematician and instrument maker Gemma Frisius' 1545 book , in which he described and illustrated how he used the camera obscura to study the solar eclipse of January 24, 1544.
Zugefügt zum Band der Zeit: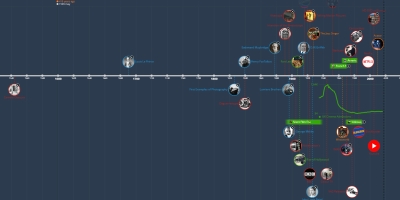 History of Film
Datum:
Abbildungen:
YouTube: