3 Jan 1814 Jahr - Pelican Proclamation
Beschreibung:
Miles Macdonell was the governor of the
Red River Settlement. He attempted to solve a food shortage
in the area by issuing the Pemmican Proclamation in 1814.
This proclamation outlawed the export of pemmican
from the Red River area. Another proclamation banned
the buffalo hunt, since it drove buffalo, an important food
source, away from the settlement. As the Métis relied on
pemmican and the buffalo hunt for their survival, banning
both would hurt their livelihood. Then Macdonell ordered
the North West Company to leave the area, which was still claimed by
Hudson's Bay Company.
Zugefügt zum Band der Zeit: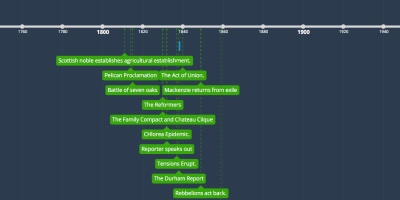 chapters 7/8
Datum: