1 Jan 1890 Jahr - First era of KKK
Beschreibung:
It started during the reconstruction at the end of the Civil War. The Klan quickly made themselves vigilante and started threatening the black population of the south. They recruited any whites who would help them. the KKK would prevent the black population from enjoying basic civil rights. they had titles like "imperial wizard" and "exalted cyclops". they had hooded costumes and went on night rides. Lynchings, tar-and-feathering, rapes and other violent attacks on those challenging white supremacy became a hallmark of the Klan. the leader of the KKK disbanded the group after he thought it was getting to violent
Zugefügt zum Band der Zeit: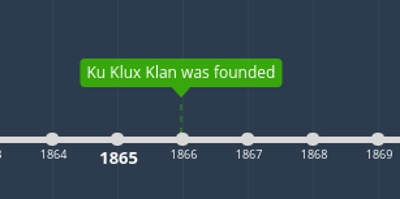 Ku Klux Klan
Timeline for the conflict and comprises of the Ku Klux Klan.
Datum: