0 St. 30 Min, 1 Sept 1904 Jahr - Deployment of Baltic fleet into Asia
Beschreibung:
Sent to relieve Port Arthur
1. Arduous Journey
2. Inexperienced fleet
3. Mistook a group of British trawlers for Jap torpedo boats
Opened fire, killed 2 Brits fisherman.
Almost brought London into war
4. 8 months voyage, slow paced
World press news broadcast made it easy for Jap battlefleet.
+ HAD COAL LITERALLY STACKED ON SHIPS.
Zugefügt zum Band der Zeit: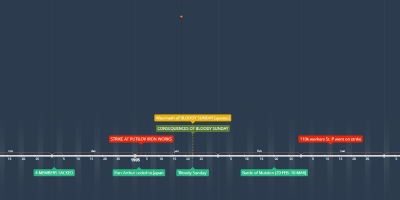 Russian Revolution
Consequences
Interpretations
Quotes
Events
Datum:
Abbildungen: