13 St. 51 Min, 20 Jun 1789 Jahr - Tennis court oath
Beschreibung:
Presence of troops at the assembly hall fueled the fear that that the King was preparing to use armed force against them and led them to assemble on the outdoor tennis court. They took the tennis court oath saying nothing can prevent them discussing and meeting.
Louis XVI took this as a personal attack choosing to reject Neckers advice of compromise.
Zugefügt zum Band der Zeit: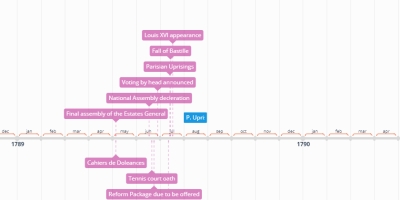 Events leading t the French revolution
Datum: