2 Jul 1964 Jahr - The Civil Rights Act of 1964
Beschreibung:
1. A bill passed by Johnson that banned the use of unfair registration voting standards based on race, desegregated public places, allowed federal government to withdrawal their support of those who support segregation, and banned discrimination in and form with the use of the EEOC.
2. President Johnson & Kennedy's Ideas
3. Passed through Congress
4. One major cause was that the movement was gaining obvious support through their marches, such as the March on Washington, and after the assassination of Kennedy many were ready to push his ideas through.
5. The effect was that African Americans in America finally had some form of legislation in order to protect their rights.
Zugefügt zum Band der Zeit: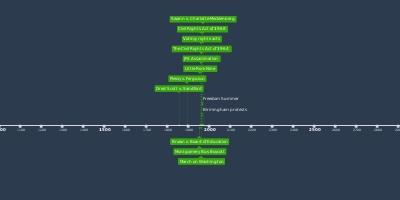 Civil Rights Timeline
Datum: