31 Dez 1934 Jahr - Economic Impact of Hitler's rule
Beschreibung:
1.Re-employment
-Problem: Massive unemployment in Germany
-Solution: Public works programmes (e.g. building of roads, autobahnen, public buildings)
-Reich Labour Service: agency to reduce unemployment
2.Rise of Big Industrialists
-Nazi government aimed to make Germany self-sufficient.
-New Plan of 1934: industries crucial to Germany were subsidised.
-Production of important products—oil, steel, coal were increased.
-Big businesses that produced these were given valuable contracts.
-Ban on trade unions also helped big businesses
-Spending on rearmaments also boosted incomes of companies producing war materials.
-These big businesses thrived and in turn made compulsory donations to the Nazi Party—this strengthened their power and influence.
3.Control of Trade Unions
-Trade Unions were banned.
-All workers had to join the DAF (German Work Front)
-Through DAF, workers were strictly controlled.
>Wages kept low
>Govt permission needed to change jobs
>Not allowed to strike
4.Organising workers' leisure time
-DAF set up schemes— "Strength Through Joy" or KdF
>Cheap theatre tickets
>Sports events
-Objective: control people's leisure time
-'Beauty of Labour': improve working conditions for workers
>Washing facilities
>Low-cost canteens
5.Militarisation
-1935: Introduction of conscription
-This created jobs
-Establishment of a modern German air force—Luftwaffe
-All these helped to boost the economy and provided employment.
random date
Zugefügt zum Band der Zeit: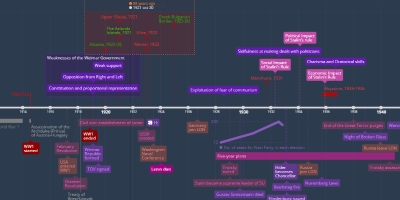 Elective History
Combined Humanities 2267
unfinished; only did Chpt 1-3++
Datum: