0 St. 3 Min, 10 Sept 2013 Jahr - Assad Welcomes Discussion
Beschreibung:
Syrian Foreign Minister Walid al-Moallem said that the Assad regime welcomed discussion on Russia's plan to give up Syria's chemical weapons and join the Chemical Weapons Convention. President Barack Obama, French President Francois Hollande, and British Prime Minister David Cameron discussed how to implement the plan through the UN Security Council, with France beginning to draft a resolution based on the Russian proposal, but with stipulations that force be authorized if Assad fails to implement the provisions of the resolution.
President Obama, in an address to the nation, also requested that Congress postpone a vote on the use of force while the diplomatic path proposed by the Russians is pursued in the UN Security Council. However, he also reiterated his commitment to pursue military action if a deal on securing Syria's chemical weapons is not reached.
Zugefügt zum Band der Zeit: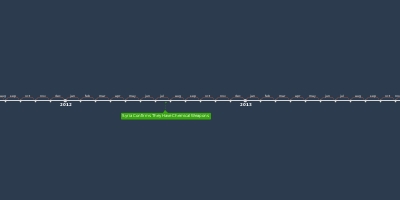 Syrian Civil War
Datum: