4 Okt 2015 Jahr - Stakeholder for autonomous car safety proven through testing
Beschreibung:
At the University of Michigan Transportation Research Institute, a study performed a testing of the on-road safety record of vehicles for 3-10 companies to test the safety record of the vehicles. The stakeholder is the school that performs this experiment. This becomes significant in showing the readers how safe the vehicles are in comparison to human driven cars. It gives readers statistics on autonomous research to prove numerically how much safer it is to let a car self-drive you around.
Zugefügt zum Band der Zeit: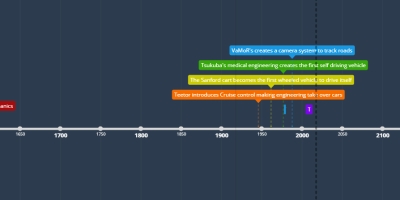 Self-driving cars' evolution timeline
This timeline goes through the major events that led to prod...
Datum:
YouTube: