10 Okt 1961 Jahr - The Sanford cart becomes the first wheeled vehicle to drive itself
Beschreibung:
With the space race in full swing, researchers began to ponder landing vehicles on the moon. The idea of a remote-control lunar rover was posited by James Adams, a Stanford engineering graduate student–but how would it be controlled given the 2.5-second delay between when a command was sent from earth to when it was received by a rover on the moon? The solution ultimately led to the development of the world's first truly self-driving wheeled vehicle. The Cart, as it was called, was eventually outfitted with cameras and programmed to detect and autonomously follow a solid white line on the ground. Today, successor technologies using cameras remain a vital element of autonomous vehicles.
Zugefügt zum Band der Zeit: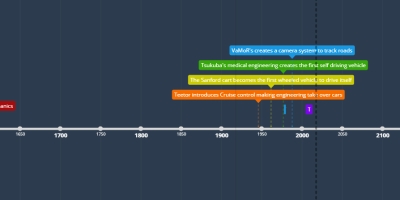 Self-driving cars' evolution timeline
This timeline goes through the major events that led to prod...
Datum: